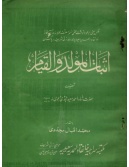 A short book on the validity of the practice of Mawlid in Islam. This is an exact reprint of the original manuscript in the handwriting of the author.
Asbat al-Mawlid wa al-Qayam اثبات المولد و القيام
By Shah Ahmad Saeed Mujaddidi, d. 1277 AH (شاه احمد سعيد مجددي قدس سره)
Published by Maktaba Sirajia. Published in 1979. Pages: 36.
Digitized by Maktabah.org, December 2011.
---
Other file formats at archive.org
---