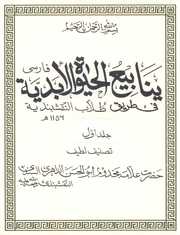 A rare manuscript of an unpublished masterpiece of Sufism written in Persian by Makhdoom Abul Hasan Dahiri Sindhi Naqshbandi (d. 1181 AH). This is one of the major books written on Sufism in the Indian subcontinent, and some scholars have compared it to the Keemya Saadat of Imam Ghazali. This is an encyclopedia of Sufism written in the 12th century Hijri.
This rare manuscript was acquired by Maktabah Mujaddidiyah in order to digitize and preserve this ancient pearl.
Makhdoom Abul Hasan Dahiri was a Sufi master of the Naqshbandi order in Sindh (present day Pakistan). His chain of spiritual lineage goes as: his shaykh was Abdul Rasool Siddiqi of Ahmadabad (India), whose Shaykh was Shah Fat'h-ullah, who was khalifa of Khwaja Muhammad Masoom Sirhindi, who was khalifa of Hazrat Mujaddid Alf-e-Sani Shaykh Ahmad Sirhindi (d. 1034 AH).
Total pages in three parts: 1270
Note: page 366 in part 2 is missing and will be update as soon as acquired.
Digitized by Maktabah Mujaddidiyah (www.maktabah.org) in July 2012
Files hosted by Internet Archive www.archive.org
ینابیع الحیاة الابدیة في طریق طلاب النقشبندیة (فارسی)
مصنف: مخدوم ابو الحسن داھری نقشبندی (وفات 1181ھ)
طریقہ عالیہ نقشبندیہ کے بزرگ حضرت مخدوم ابو الحسن ڈاہری نقشبندی مجددی رحمۃ اللہ علیہ کی یہ عظیم تصنف تصوف میں ایک انسائکلوپیڈیا کی حیثیت رکھتی ہے، لیکن ابھی تک یہ کتاب شایع نہیں ہوسکی۔ کچھ علماء کرام نے تو اس کتاب کو امام غزالی علیہ الرحمہ کی کتاب کیمیائے سعادت سے بھی بہتر کہا ہے۔
فهرست کتاب "ينابيع الحياة البدية في طريق الطلاب النقشبندية"
باب اول: در بيان صوفي و سالک و متشبه و ولي و عارف و شيخ و آنچه بايشان تعلق دارند (بيست و شش فصل)
باب دوم: در بيان علم دين اسلام و علماء آن (سيزده فصل)
باب سيوم: در معرفت انسان و قوائ ظاهره و باطنه وي و اشيائيکه دروي مندرج و مندمج اند (يازده فصل)
باب چهارم: در بيان واردات غيبيه (نه فصل)
باب پنجم: در بيان انگه طرق الى الله بعدد انفاس الخلائق است و از حيثيت اجمال سه طريق اند (چهارده فصل)
باب ششم: در بيان شرائط طريقت و قدمگاههائ سالکين که عبارت از مقامات است و در بيان ارکان طريقت که شرائط حقيقت اند (بيست فصل)
باب هفتم: در بيان شغل ذکر در طريقه پير اين فقير محرر اين تحرير (سه فصل)
باب هشتم: در مناظرات مشائخ و اختلافات ايشان در بعضي امور متضآدّه (پنج فصل)
باب نهم: در بيان حکم سرود و سماع آن و نواختن سازهاي آن (هفت فصل)
خاتمه: در بيان اصول حديث و آنچه بآن تعلق دارد و در تقسيم حديث بدو و سي اقسام و درينست ذکر بعضي احاديث منامي و الهامي و حديث اخذ تبرک بشيء قليل متبرک …..
تذنيب: در شرح ربع مسکون زمين و بيان چند چيز که صورت انسان دارند و انسان نيستند و بيان حيوانات که در جنت بدرآيند و هرچه باينها تعلق دارد
---
---