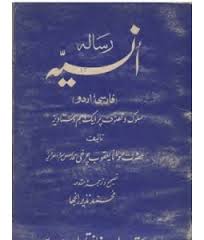 Risalah Unsia (or Unsiyya) is a short treatise written by Hazrat Khwaja Mawlana Yaqoob Charkhi (d. 851 AH / 1447 CE), the great Naqshbandi shaykh and khalifa of Khwaja Bahauddin Naqshband Bukhari.
This edition contains the original Persian text and its Urdu translation by Muhammad Nazeer Ranjha. 120 pages. Published by Maktabah Sirajia.
This risalah contains Fazail of keeping Wuzu at all times, Fazail of Zikr-e-khafi, and some special quotes (malfuzat) of Khwaja Naqshband and Khwaja Alauddin Attar.
Digitized by www.maktabah.org (May 2011).
---