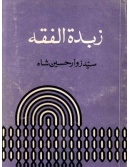 Sindhi translation added.
Zubdat-ul-Fiqh (Urdu) is one of the best books to learn Hanafi Fiqh. It is a summarized version of Umdat-ul-Fiqh which contains details and proofs as well. It is written in Urdu by Sayyid Zawwar Hussain Shah Naqshbandi Hanafi (1911-1980).
Original Urdu edition
Published 2009 by Zawwar Academy Publications. 560 pages. All three volumes.
Digitized by www.maktabah.org
زبدۃ الفقہ (حنفی) از سید زوار حسین شاہ نقشبندی حنفی
مکمل تین حصے
زبدۃ الفقہ، عمدۃ الفقہ کا خلاصہ ہے اور فقہ حنفی سیکھنے کے لئے ایک بہترین کتاب ہے۔ اس میں صرف عبادات (اسلام کے پانچ ارکان) کا فقہ شامل ہے۔
Sindhi Translation
زبدة الفقه، سنڌي ترجمو
مولانا سيد زوار حسين شاه نقشبندي
Part 1: Iman, Taharat, 206 pages - Read on Scribd - Download - Archive.org
Part 2: Namaz, 404 pages - Read on Scribd - Download - Archive.org
Zubdat-ul-Fiqh Urdu:
---