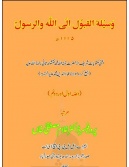 Maktoobat (letters) of Hazrat Khwaja Muhammad Naqshband Sirhindi (d. 1115 AH), who was the son of Khwaja Muhammad Masoom Sirhindi Mujaddidi (d. 1079 AH).
Arranged and published by Dr. Ghulam Mustafa Khan
وسیلۃ القبول الی اللہ والرسول، یعنی مکتوبات شریف حضرت حجۃ اللہ محمد نقشبند ثانی رحمۃ اللہ علیہ (م ۱۱۱۵ھ)، جمع کردہ مولانا عماد الدین محمد علیہ الرحمہ
Published in 1963. Pages: 280. Digitized by www.maktabah.org – January 2012.
---
Other file formats at archive.org
---
---
---