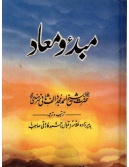 Mabda' wa Ma'ad (The origin and the return) is a book containing mystical writings of Sufism by the great Mujaddid, collected by one of his khalifas.
Author: Hazrat Imam Rabbani Mujaddid Alf-i-Sani Shaykh Ahmad Sirhindi (d. 1034 AH).
از امام ربانی مجدد الف ثانی شیخ احمد سرہندی قدس سرہ، م ۱۰۳۴ھ
Translated by Iqbal Ahmad Faruqi مترجم اقبال احمد فاروقی
Published by Maktaba Nabaviyya Lahore, 1996. Pages: 152.
Digitized by www.maktabah.org – January 2012.
---
Other file formats at archive.org
---
---
---