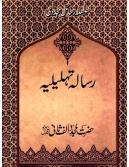 A short book about the realities and secrets of Kalima Tayyiba (Shahadah).
Risalah Tahleeliyah (رسالہ تہلیلیہ) by Imam Rabbani Mujadidi Alf-i-Sani Shaykh Ahmad Sirhindi (مجدد الف ثانی شیخ احمد سرہندی قدس سرہ)
Translated in Urdu by Hafiz Rasheed Ahmad Arshad.
Published by Zawwar Academy Publications, 2011. Pages 44.
Digitized by Maktabah.org, December 2011.
Other file formats at archive.org
---