---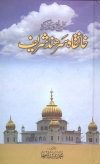 Biographies of the three masters of the Naqshbandi Mujaddidi Sufi order:
1. Khwaja Baqi Billah Dihlawi
2. Imam Rabbani Mujaddid Alf-e Sani
3. Khwaja Muhammad Masoom Sirhindi
Author: Muhammad Nazir Ranjha.
تاریخ و تذکرہ خانقاہ سرھند شریف (اردو)
مصنف: محمد نذیر رانجھا
اشاعت: ۲۰۱۱
Pages: 944. Digitized by Maktabah Mujaddidiyah (www.maktabah.org) 2013.
---
---
---