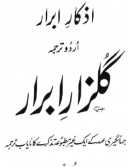 A biographical book of Sufi saints of India, written in the 11th century Hijri. A great source of insight into the Sufi lives of that time. It was written in 1014 AH (1605 CE).
Author: Muhammad Ghosi Shattari Mandavi.
Translated in Urdu by Fazal Ahmad Jeevri.
Published by Daar un-Nafa'is, 2006. Pages 667.
اذکارِ ابرار، اردو ترجمہ گلزارِ ابرار
جہانگیری عہد کے ایک غیر مطبوعہ تذکرے کا نایاب ترجمہ
مصنف: محمد غوثی شطاری مانڈوی
مترجم: فضل احمد جیوری
ناشر: مکتبہ سلطان عالمگیر، لاہور، پاکستان
سنِ تصنیف: 1014ھ
سن اشاعت: 1427ھ
صفحات: 680
---
Other file formats at archive.org
---
---
Additional Info
Author:

Muhammad Ghausi Shattari Mandavi

Year:

1427 AH

Publisher:

Maktabah Sultan Alamgir

Lahore

Pakistan

Contributors:

Fazl Ahmad Jiori

Language:

Urdu

Pages:

680
---