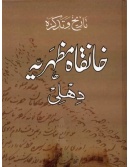 This is a history of the great Naqshbandi shrine called Khanqah Mazhariyah Delhi, with biographies of its founders including Shah Saifuddin Sirhindi (d. 1096 AH), Sayyid Nur Muhammad Badayuni (d. 1135 AH), Mirza Mazhar Jan-i-Janan (d. 1195 AH) and Shah Abdullah alias Ghulam Ali Dehlavi (d. 1240 AH).
Author: Nazeer Ahmad Ranjha از نذیر احمد رانجھا
Second edition 2010. Pages 464.
Digitized by www.maktabah.org – January 2011.
---
Other file formats at archive.org
---
---
---