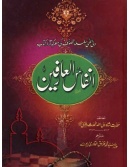 Biography of Shah Abdur-Rahim Muhaddith Dehlavi, by his son and great Imam Shah Waliullah Dehlavi, which includes several mystical anecdotes.
انفاس العارفین، اردو ترجمہ از سید محمد فاروق القادری
Author: Shah Waliullah Muhaddith Dehlavi.
Translator: Sayyid Muhammad Farooq al-Qadri.
Publisher: Farid Book Stall, Lahore. Year: 2007.
Digitized by Maktabah Mujaddidiyah (www.maktabah.org) February 2012.
---
Read on Scribd
---
---
---