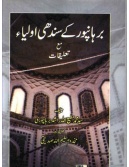 Biographical skechtes of the Sindhi Auliya of Buhanpur India, who had migrated from Sindh and settled in Burhanpur city, India. Most famous of them is Hazrat Shaykh Isa bin Qasim Sindhi Shattari (d. 1031 AH).
Author: Sayyid Muhammad Mutee'ullah Rashid Burhanpuri.
Research: Makhdoom Saleemullah Siddiqi.
Published in 2006 by Sindhi Adabi Board, Jamshoro (first published in 1957). Pages: 464.
Digitized by Maktabah Mujaddidiyah (www.maktabah.org) April 2012.
برہانپور کے سندھی اولیاء، از سید محمد مطیع اللہ راشد برہانپوری، تعلیقات مخدوم سلیم اللہ صدیقی، ناشر سندھی ادبی بورڈ جامشورو
---
---
---